About Hugh D. Simpson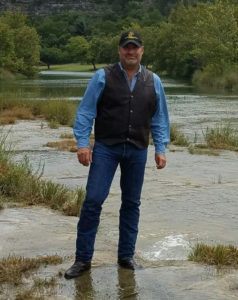 Leaving the active component of the Marine Corps after six years to pursue business, I was fortunate enough to grab a Pilot slot in New Orleans.  It is during this time period I began writing.  Not sure why.  During my 20 years of active and reserve service, I flew H46 E's, UH-1N's, and AH1-W helicopters.  Rounding out my Air / Ground experience, I served as a Forward Air Controller and Battalion Air Officer.  Deployed to West Pac twice and joined Mag 26 to deploy for Desert Shield / Storm / Calm.  Our unit lowered the flag.
I have had a great civilian life. I resigned my downtown communications position to go to SW Asia, 90 days later I had gone from wearing suspenders working downtown to participating in the largest Marine Corps helicopter operation in history. The Marine Corps was my pizza fix, but my everyday life revolved around building a business. Leaving active duty in August of 1992, I started my first telecommunications company from the front room in my house. Today that calling card technology would be considered archaic, but at the time was cutting edge. As the cell phone appeared on the street and the calling card and pager industry vanished, I sold the company and created another technology communications company. Again, the technology was at the forefront of telecommunications, after six years, during a 2 a.m. board meeting, I was thrown out like a dog. I didn't realize when my ass hit the sidewalk at the time, a God wink occurred. I had always written, but I did not know why. Now I do.
Since 2003, I have spent the bulk of my time at the Family Law Firm as the Business Manager.  Three things occurred, my children went off to College, and began the journey to round out a skill I knew nothing about nor why I even bothered.  Within last 18 months I fired my ghost writer and was introduced to Sarah Lovett.  Between Ms. Lovett banging frying pans against my forehead, and then repeating the act on numerous occasions, the light came on to include my purpose in writing.  Now after 31 years of kicking the tires in the writing profession, with the reader's help, will light some fires.
Borderline Decision is the first book in a military thriller series featuring US Marine Pilot LtCol Hap "Kang" Stoner and his team of seasoned pilots who share the lifelong bond of combat veterans. Aided by Hap's whip-smart and fiery S.I. Carla,  Hap's business partner in civilian life "Will Kellog", as well as operatives of "Shadow," a privately funded, black ops, international intelligence agency, Hap and "the boys" take action and right wrongs when and where governments fear to tread.
Borderline Decision, will be followed by the sequel, Caribbean Cabal (a tale that includes a hunt for Nazi gold), and Fairplay, currently a bundle of pages hot off the printer. My fourth, Big Shadow is in revision and I'm really looking forward to beginning the process of turning my outline into the initial draft of Unhinged. My sixth book, USA.2, consists of a bunch of thoughts racing through my head. Outline to begin soon. My recipe consists of mixing compelling and memorable characters with real life events, world and military history, and the current geopolitical situation—all sprinkled liberally with action and adventure! Once baked—I have been told—the result is a great story that always keeps in mind my goal of honoring "the boys" even as the thrills keep coming.
Hugh is Treasurer and Chair of Finance Committee of the Military Writers Society of America. Organizational Goals are:
to Improve writing skills of its members
to reach out to schools, military organizations and veterans' groups to foster and encourage an interest in writing
to recognize the accomplishments of its members' work in literature and the communication arts