Kidnapped by a Drug Cartel.
Thrown Under the Bus by His Government.
Revered by His Patriotic Brothers in Arms.
So They Decide to Go Get Him …Without Permission.
Borderline Decision
Hugh Simpson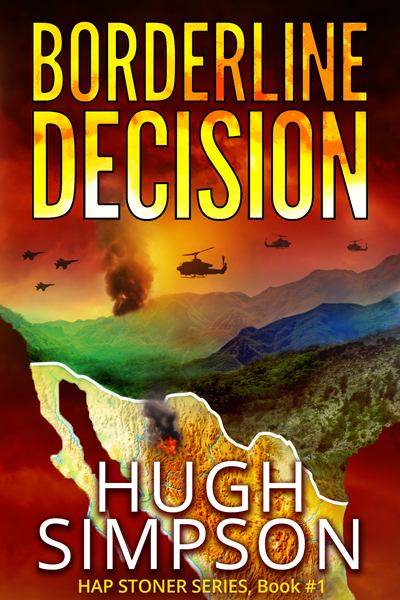 "Borderline Decision takes you deep into daring black military operations you never hear about. The action is riveting and suspenseful. You'll live it, feel it, and ask for more."
—Casey Demchak, Copywriter & Consultant
Gritty. Authentic. Real.
If you have ever wanted to plunge into the action, bravery, chaos, and intensity of daring …and unauthorized …covert military operations, today is your chance to step up and get into it.
Borderline Decision is the first novel in Hugh Simpson's military thriller series that features US Marine Pilot Lt. Col Hap "Kang" Stoner and his team of warrior military pilots.
They never back down, and they never hesitate to right the wrongs and take action where governments are too scared to go.
Hugh Simpson is able to write Borderline Decision with stark realism and authenticity
for one simple reason. Covert military operations is his world.
As a 20-year military veteran, he's lived it, breathed it, and been up to his neck in it while flying helicopters in operations Desert Storm, Desert Shield, and Desert Calm.
His extensive geopolitical insights, wisdom, and ability to create stark, compelling characters come crashing together with heart-pounding force in Borderline Decision.
Be Prepared. The Action Heats Up Quick.
A U.S. Marine outpost along the southern border is ambushed by the ruthless Black Stone Mexican drug cartel, who work side by side with a murderous Middle Eastern terrorist group. High-ranking U.S. military commander, Chuck Warden, is taken hostage.
Corrupt U.S. officials turn a blind eye and leave Warden for dead, hoping his name will stay out of the headlines. But Lieutenant Colonel Hap "Kang" Stoner doesn't necessarily play by the rules. Instead, he makes his own.
So he takes decisive action, leading a hardened squadron of gritty Marine aviators on an unauthorized covert raid into Mexico to bring Warden home. Unauthorized, which means they literally invade Mexico.
They know there will be consequences in D.C. But they don't care. They'll deal with the politicians later …because "Hap" Stoner and the boys are not about to leave Warden behind.
Fight with America's Secret Military Elite
With unflinching realism, Hugh Simpson pulls you deep into the pit of a gut-wrenching black ops mission where you'll …
Become entangled in the kill or be-killed world of international drug cartels
See up close the scope of government greed, lies, and corruption
Experience first hand the real meaning of courage, heroism, and patriotism
Confront the Startling Truth
Borderline Decision doesn't hold back, and it doesn't pull any punches. It forces you to confront the chilling threat living at America's doorstep. One you rarely, if ever, hear about on the news.
That's because powerful people don't want you to know about it. You'll have to face the cold hard truth that when the price is right …your government conspires with people who'd love to kill you.
All that stands between you and the vicious murderers determined to bring down the United States are the brave silent warriors you've never met …until now.
Pulling Back the Curtain Reveals Secrets
Hugh Simpson draws from his 20-year military career to bring you into the shadow world of military black operations.
Borderline Decision is so realistic because there is a lot of geopolitical history built into it. What Hugh Simpson has done is develop a band of extremely dynamic characters …and put them in the middle of what REALLY goes on in the world.
Simpson takes you behind the curtain, so you can see what goes on in secret military operations and get in on the action.
Borderline Decision is raw, unapologetic, and authentic. It will rattle your cage and expose you
to the dark forces that threaten our freedom and our way of life.
Gain Appreciation for Our Heroes and Patriots
Think you really know what goes on in Washington D.C. when it comes to how politicians view threats to our country? You don't.
Borderline Decision details how Middle Eastern terrorists are aligning with drug cartels right on our southern border. Their presence is becoming bigger and stronger, and they're planning to do great harm to America …and to you and me.
You'll be stunned by the scope of the threat. You'll be enraged to discover that many in Washington willingly downplay it to enrich their interests.
However, you'll also meet Patriotic Americans like Hap Stoner who'll do anything and everything …whether it's authorized or not …to kill our enemies and keep America safe.
WATCH THE BOOK TRAILER: